Queen's University, Belfast: Engineers bridge the gap with flat pack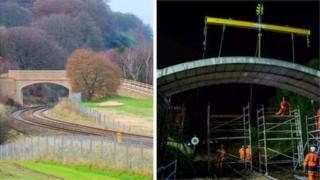 Engineers at Queen's University in Belfast have developed what they say is the world's longest flat pack arch bridge.
The bridge will be transported to site in flat-pack form but when lifted, will transform under gravity into an arch.
It will span 16m (53ft) and will weigh almost 300 tonnes and will be put up in a day.
It is due to be erected over the Wallington River in Waterlooville, Hampshire in the coming months.