Union urges trust to re-think frozen meals for elderly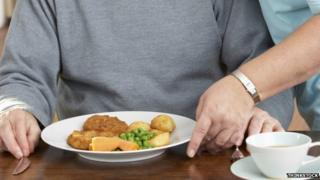 A union has called on a health trust to consult on plans to deliver 14 frozen meals every two weeks, instead of a service every day.
The union GMB, which represents meals on wheels staff, has asked the South Eastern Health trust to reconsider its proposal to end the daily service.
Denise Walker of GMB said: "Members are concerned that this is another penny-pinching attack on the elderly."
The trust said carers will still visit those who need help to eat meals.
The South Eastern Health Trust said that the decision has been taken as a "cost effective" measure.
The proposal was revealed in the Northern Ireland Assembly on Monday by the SDLP's health spokesman, Fearghal McKinney.
A statement by GMB said: "We are dismayed that the trust is forging ahead with this proposal without full consultation with the people affected by these disgraceful plans."
"A society can be judged by the way in which it treats its most vulnerable. GMB members believe that if these changes are applied then we are failing as a society to protect our elderly citizens".