Belfast's Obel building: Fire was accidental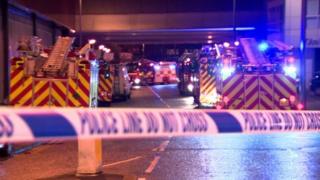 The Fire and Rescue Service has said they believe a fire on the roof of Belfast's tallest building, the Obel, was accidental.
A number of residents from the upper floors were asked to leave their apartments on Friday as a precaution.
The Fire and Rescue Service said it was caused by an electrical fault in high voltage cabling.
They said the blaze had been brought under control. Fifty fire officers and nine fire engines attended the scene.
Fire damage was caused to 269 sq ft (25 sq m) of roof panels, with five flats sustaining water damage.
Lenny Entwistle, a group commander with the Fire and Rescue Service, said it was a complex operation.
"In any fire in a building of that size it is difficult for us to establish a fire-fighting platform," he said.
"Last night there were high winds as well and we had the possibility of debris being blown from the top of Obel on to the Post Office sorting office, the motorway and railway lines."
The Obel building at Donegall Quay consists of a 28-storey residential tower and an adjoining six-storey office block.