Ring of Gullion musicians entertain passengers on the London Underground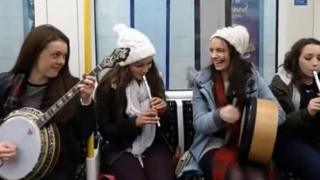 The tannoy and train's horn is usually the loudest sound that passengers travelling on the London Underground encounter.
But that all changed at the weekend when they were entertained by a group of young musicians from County Armagh.
The performance of Irish traditional music by teenagers from the Ring of Gullion Traditional Arts Partnership was one of a series of impromptu gigs that included Big Ben, the top deck of a bus and Trafalgar Square.
St Ethelburga's Centre for Reconciliation and Peace in Bishopsgate, a building rebuilt after an IRA bomb in 1993, also staged some sessions.
Des Murphy is chair of the Ring of Gullion Landscape Partnership scheme, which is involved in a £1.4m Heritage Lottery Fund programme aimed at engaging the public with the area of outstanding natural beauty.
He said the melodies of the young musicians had gone down a treat in the UK capital.
"The reaction we got on the Tube was spectacular. You can't really see it on the video but there was a big crowd behind the camera enjoying it," Mr Murphy said.
"One person was shouting for the girls to do some Irish dancing and one of the girls is an Irish dancer, but unfortunately we didn't have the time.
'Lambeg drums'
"We also had performances at Big Ben and Trafalgar Square.
"At Trafalgar Square they climbed up on the plinth with the lions and played until someone told them to get down, no-one got arrested.
"There were a lot of American and Japanese tourists watching.
"Big Ben was probably even better, the girls had just got off a London bus after playing on the top deck, and a lot of people took photos and stood recording them."
The trip to London is one of a number of cross-community initiatives planned by the scheme and Mr Murphy said they hoped to return there in the spring, with some Lambeg drums, if funding can be secured.