Ex-boxer Eamonn Magee found guilty of assaulting woman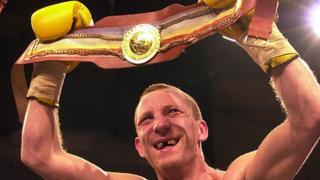 Former world boxing champion Eamonn Magee has been convicted of beating up a woman in a north Belfast flat.
The 43-year-old, of Eskdale Gardens in Belfast, had repeatedly denied the assault.
Belfast Magistrates' Court heard Magee had dragged Louise Mullan to the ground by her hair before kicking and hitting her.
The victim said the "no-warning" attack happened during a drinking session at a friend's apartment in July 2014.
Denying the allegations, the defendant instead claimed Mullan, a nursing home worker, had punched him 10 times.
'Sparring'
The judge, however, said he did "not believe a word" he had heard from Magee, and told the court the boxer had given a "completely incredible version of events where he would have me believe he was somehow sparring with the victim".
The court heard Magee had left a bar at closing time to return to a friend's flat in the Oldpark area of Belfast with Mrs Mullan and her boyfriend.
She told the court they had drinks before the boxer attacked her as she sat on a kitchen bench.
"All of a sudden Eamonn just turned into somebody else," she said.
"He was kicking and hitting me, holding me on the ground. I was trying my best to swing back to get him off me."
'Lairy'
She said the attack lasted two minutes before Magee got up and left the apartment.
The court heard Mrs Mullan was left with rib and leg injuries, forcing her to take unpaid leave from her job.
Under cross-examination, she denied that she had been "a bit lairy" and struck Magee first, knowing his status as former world champion boxer.
"Could you picture me wanting to punch a boxer?" she told the court.
'Fight like a man'
Magee, known as The Terminator during a professional career that saw him capture the WBU welterweight title, said the violence had not come from him.
He said: "Why would I do that to a woman? It's not in my genes, come on."
The boxer told the court that Mrs Mullan could "fight like a man" and claimed she had hit him with a right-left-right combination as he tried to restrain her.
However, convicting Magee of common assault, the judge said the boxer had given "a performance so far removed from the truth that I put no weight in it whatsoever".
Magee's professional career spanned 33 fights and also included Commonwealth success.
He was the first boxer to knock down fellow ex-world champion Ricky Hatton, even though he went on to lose that bout on a split decision.
He will be sentenced in four weeks' time.