Northern Ireland ambulance staff strike called off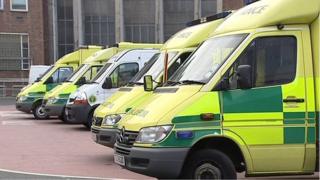 Planned strikes by ambulance workers in Northern Ireland and England on Thursday have been called off by one of the unions involved.
The GMB union said a new pay proposal has been put forward by the government.
Talks were held in England on Tuesday between union members and the government.
Staff were threatening to strike in response to a decision not to implement a 1% increase in NHS staff salaries across the board.
The government pay review body had originally recommended a minimum increase of 1%.
That has been implemented in Scotland and Wales, but not in England and Northern Ireland.
In a statement, GMB said the new offer would be reviewed at a national meeting on 4 February.
GMB national officer Rehana Azam said the organisation was "pleased" that a new offer had been secured.
However, the Unite union has yet to call off its industrial action.
Kevin McAdam from Unite told the BBC that they were awaiting a response from the Health Minister Jim Wells and said Thursday's strike would be going ahead as planned.