Siptu in plea over Aer Lingus sale to British Airways owner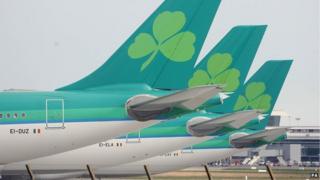 Siptu, the largest trade union in Aer Lingus, has urged the Irish government not to sell its share of the airline without job guarantees.
The board of Aer Lingus has said it is willing to accept a £1bn takeover proposal from British Airways owner, International Airlines Group.
The Irish government owns a quarter of Aer Lingus shares and has the power to block the takeover bid by IAG.
Ryanair also holds a stake of almost 30% in the company.
IAG's main interest in the Irish airline is its 23 pairs of take-off and landing slots at Heathrow Airport.
Speaking on RTÉ's Today with Sean O'Rourke on Tuesday, Siptu president Jack O'Connor said the sale would have far reaching implications for staff and they needed to be protected.
If the deal is done, it could allow IAG to operate more lucrative long-haul flights from Heathrow.
That is worrying some politicians in the Republic of Ireland.
They fear it could mean regional airports like Cork will lose their Heathrow flights.
The Republic of Ireland's transport minister Paschal Donohoe said the issue of Heathrow would be crucial in any evaluation of the bid.