David Ford: Child crime records 'can be reviewed' under new plans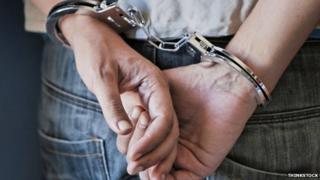 People with a childhood criminal record could be able to ask for a review under new plans revealed by the Northern Ireland justice minister.
A campaign group had called for people convicted of minor offences as children to be allowed to apply to have their criminal records wiped.
Mr Ford said eligible cases would now be "automatically referred for review".
The Northern Ireland Association for the Care and Resettlement of Offenders called for change earlier this month.
Niacro members visited Stormont in the hopes of changing how the criminal records disclosure service, Access NI, deals with records containing offences committed by someone under 18.
They said old convictions could have a "lasting negative impact".
Mr Ford said the measure will be included in the forthcoming Criminal Justice Bill.
Access NI already operates a "filtering" system, where some old and minor convictions are taken off records.
Mr Ford said if people still felt that "inappropriate convictions" remained on their records, even after the filtering process had been applied, they could request a review.
"They will get the opportunity to request a review, so that there is a second examination to see the appropriateness of those specific instances being kept on a criminal record for a period of time," he said.