Army bomb teams called out 347 times in Northern Ireland in year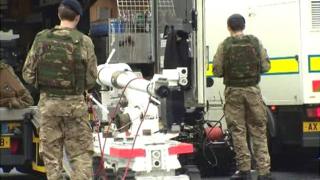 Army bomb disposal officers were called out in Northern Ireland nearly once a day last year, a security powers watchdog has said.
A report from the Independent Reviewer of the Justice and Security (Northern Ireland) Act 2007 said the military was called out 347 times.
Active pipe bombs and other improvised devices were defused on 67 occasions.
Another 22 alerts involved explosions, according to the independent reviewer, David Seymour.
The incidents were recorded between August 2013 and July last year.
"I was very impressed by the dedication, bravery and professionalism of the military and, in particular, those whose role it is to defuse and dispose of improvised explosive devices which, sadly, remain a regular feature of life in Northern Ireland," Mr Seymour said.
"PSNI officers are targeted both on and off duty. Routine patrol patterns are liable to be exploited by dissident republican terrorists.
"Routine requests for police assistance (eg burglary) have to be assessed against the background of potential 'come on' traps where police are lured into exposed and vulnerable situations to attempt to cause them harm."
The incidents dealt with by the Army included:
67 to deal with an Improvised Explosive Device (IED) like a pipe bomb
22 for an explosion
74 for a hoax where an object was made to look like an IED
Twice to tackle incendiaries that were programmed to ignite and cause buildings to burn, traditionally targeted at commercial premises.
123 to make munitions or component parts safe
59 times the call out was false
Secretary of State Theresa Villiers said the PSNI had seized 2.5kgs of Semtex explosive from the so-called New IRA dissident group