Sir Liam Donaldson fears one of his recommendations will not be accepted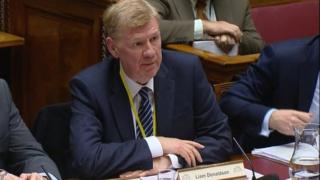 The expert who carried out the review into Northern Ireland's health service has said he believes one of its major recommendations will not be accepted.
Sir Liam Donaldson told Stormont's health committee it was "a very great pity" his proposal for the establishment of an international panel of experts was unlikely to be accepted.
The panel would examine the need for fewer hospitals in NI.
The review made a total of 10 recommendations.
Sir Liam was asked to carry out a review into Northern Ireland's health service and he found there were too many hospitals for its 1.8m population.
His findings were published on Tuesday.
He was asked to look at just how effectively the Department of Health (NI) and the health trusts had been performing.
He also reviewed the care of patients and management of staff.
The former chief medical officer for England said politicians would not take unpopular decisions because they feared being voted out of office.
He told MLAs: "The local populations want the specialist services close to their doorstep and the local politicians are afraid of being voted out of office if they oppose changes, albeit evidence based changes.
"This is a recommendation which is high profile and, I admit, likely not to be accepted. But I think it is a very great pity, because I would say where is Plan B? And if I was a gambling man and said 'well, if there's no plan B' then I would put a lot of money on this never happening.
"The implication is, you're saying a two-tier service in Northern Ireland is the standard that we want to set for our population's care, and a solution which would take it to one tier of a high uniform standard is insoluble for political reasons. Okay, but just come out and say it openly."
The review was ordered in April last year by the then health minister, Edwin Poots.
Sir Liam, once England's most senior doctor, led a team of experts.
His remit included examining whether the health service supports a culture of openness, learning and making amends.