Ambulance staff strike to go ahead in Northern Ireland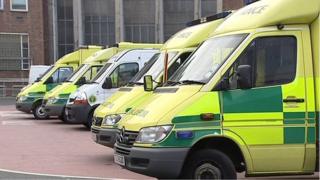 A planned strike by some ambulance workers and other NHS staff in Northern Ireland is set to go ahead on Thursday.
The strike, by members of the GMB and Unite unions, will go ahead despite a proposed pay deal drawn up after talks between unions and the government.
Hundreds of staff will now go on strike.
The GMB said its members in the NHS will take action for 12 hours from 09:00 GMT, while ambulance staff will walk out for 12 hours from noon.
'Contingency arrangements'
While the majority of Northern Ireland's 1,100 or so ambulance workers are members of the Unison union, the GMB estimates that 450 ambulance staff from their union and Unite will be on strike on Thursday.
It said about a total of 3,000 staff would be called out to strike, although some may not have been due to be on shift.
Unite's health officer, Kevin McAdam, said: "Our senior representatives met today [Wednesday] to consider the developments in the negotiations between the health unions and the English Department of Health.
"Our industrial committee concluded that due to the inaction of the Health Department here [Northern Ireland] and their unwillingness to engage with the unions, the strike action on Thursday would go ahead."
He said Unite members "have been refused the pay review body's recommendation of 1% from April 2014".
Unison is not striking on Thursday, but is to ballot its members in Northern Ireland for industrial action over pay.
In a statement, a spokesperson for Northern Ireland's Department of Health said: "The decision to force ahead with industrial action in Northern Ireland is extremely disappointing and very difficult to justify.
"Industrial action in England has been called off following mutual agreement which will not risk frontline jobs or involve any increased cost to the taxpayer."
The department's statement added that contingency arrangements were in place to ensure that patient safety is not compromised during the strike.