Musgrave Park Hospital: Trust apologises for cancelled orthopaedic operations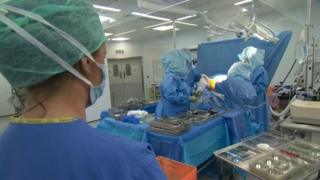 The Belfast Trust has apologised to more than 100 patients who have had orthopaedic operations cancelled.
The procedures were due to take place at Musgrave Park Hospital.
The cancellations were partly because its beds have been used to cater for an overflow of patients from Belfast's Royal Victoria Hospital (RVH).
The figure relates to scheduled operations since the beginning of November 2014.
One patient affected by the delays told the BBC he has been waiting for months "in constant pain" for hip surgery.
The Belfast Health Trust has confirmed that at one stage 35 fracture patients were in Musgrave Park Hospital.
In normal circumstances, those patients with broken limbs would have been treated in a ward at the RVH.
'Holding bay'
As Northern Ireland's regional centre for orthopaedics, Musgrave Park Hospital specialises in hip, knee and back surgery.
However, sources have told the BBC that since November, the hospital at times was being used as a "holding bay".
Another source said that it felt "nothing like a specialist centre but somewhere to put - even to hide - the overspill of patients from the Royal Victoria Hospital".
Since November, about 110 people have been notified that their operations have been cancelled and dates re-arranged for later this year.
Some patients received a new date for their operations. A majority of these cases are for knee and hip replacements and some required back surgery.
Among those waiting for a hip replacement is 67-year-old Archie Thompson.
'Agony'
His first appointment with a consultant was in September 2014.
It was confirmed that he urgently required a new hip and Mr Thompson was told surgery would take place within five months.
But only last week he received a letter telling him that he would have to be seen again by another consultant in four months time, in May.
Speaking to the BBC, Mr Thompson said he was in agony.
He said he was concerned that he had been "on a waiting list to be put on another waiting list".
"By May, it will be nine months and I will probably not even get a date for surgery then.
"The problem is I'm in pain, taking strong pain killers which are addictive and because of the pain I'm having to increase the dosage."
Mr Thompson said while he accepts he is not awaiting life-saving surgery, it is affecting his quality of life and the pain is unbearable at times.
"There are days when I just can't go out. I can't function. People wonder why I'm a little short - but it's because I'm in constant pain.
"I can't walk too far. If I visit my daughter, it takes me 10 minutes getting up the stairs as I have to go up on my bottom."
In a statement, the Belfast Health Trust said it was deeply regrettable when any patient's operation was delayed, but said the trust had seen an increase of 12% in fracture patients, all of whom required immediate operations and post-operative care in hospital.
"Such a rise in activity inevitably means that we have to use all our post-operative wards across a number of sites," the statement added.
"Specialist trauma and orthopaedic staff are based in both the Royal Victoria Hospital and Musgrave Park Hospital and our expert nursing and medical staff in both hospitals are skilled to look after orthopaedic patients with complex conditions."
The trust said some of the patients who had had their orthopaedic operations cancelled had been able to have day case surgery in order to make best use of the theatre team already in place.
'Bursting'
A number of medics, including senior members of staff, have spoken to the BBC.
None were prepared to give their name as they said they could lose their jobs if they spoke out against how the system was being managed.
"The system at times is just bursting. We deal with specialist orthopaedics but instead, some of the wards are being used to nurse patients with dementia and who perhaps have broken an arm or leg," one health worker said.
Another nurse said: "Some patients just had nowhere else to go as there was no care package for them in the community.
'Massive backlog'
"They are old and frail - while of course we can nurse them - we are not specially trained to care for dementia patients.
"It's in our blood to look after people but within the system it takes longer to feed, wash and care for the elderly. So, that delays our work and there is just a massive backlog for nurses coming unto the next shift."
The Belfast Health Trust said that during the Christmas and new year period there were 35 fracture patients at Musgrave who should have been treated in the RVH.
"The majority were transferred for their ongoing post-operative care to Musgrave Park Hospital as part of a contingency arrangement within trauma and Orthopaedic services to deal with a significant surge in fracture admissions which took place at the time within the Belfast Trust. "
But for Mr Thompson, who worked in the health service for 43 years, that is simply not good enough.
'Crisis'
"It's so frustrating that my wife and I can't plan - we can't plan a holiday for a year now - because you are just waiting for that call.
"It annoys me that the recent review of the health service says it all needs to be redesigned - we just seem to go from one crisis to another.
"And it's not the people at the frontline, at the coal face, it has nothing to do with them. But the health service has to be fixed," Mr Thompson said.
According to Belfast Health Trust there are currently 12 fracture patients receiving care in Musgrave Park Hospital.