Robert Hamill family dismayed by Ministry of Justice data loss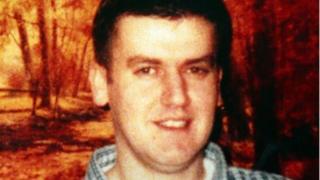 Robert Hamill's family has said they are "dismayed" that the Ministry of Justice has lost discs containing data from his inquest.
The 25-year-old Catholic was murdered by loyalists in Portadown, County Armagh, in 1997. A public inquiry was held due to claims of police collusion.
The lost discs relate to Mr Hamill's inquest and two other highly sensitive cases involving UK police forces.
Mark Duggan and Azelle Rodney were killed by police in separate incidents.
Mr Duggan was shot dead by police in Tottenham in August 2011, in an incident that sparked riots across England, and Mr Rodney was shot six times in Edgware after the car he was in was stopped by Met Police officers in 2005.
Anonymity
The information on all three sensitive cases went missing after the discs were put in the post.
Ministry of Justice officials realised the data had gone missing three weeks ago and one member of staff has since been suspended.
In each of the death inquiries there were witnesses, including police officers, who were given anonymity because of possible threats to their safety.
Mr Hamill's murder was the subject of a public inquiry, because it was alleged that four police officers were positioned in a police vehicle near the scene of the 1997 attack but did not intervene.
In a statement, Mr Hamill's family said they were informed of the MoJ data breach on Wednesday evening.
'Urgent answers'
They said an official in the Northern Ireland Office contacted their solicitor to say that material contained in a disc had gone missing in the post.
"We have been informed the disc had been in the possession of the Ministry of Justice and had been sent out in external mail and did not arrive at the designated address," the family's statement said.
"The family will be seeking urgent answers to a number of questions which arise as few details have so far been disclosed.
"We want to know whether the information on the disc was encrypted and if not why not.
"We do not know when the disc was posted and how long it took before the loss was discovered," the statement added.