Farmers ignoring slurry mixing risks says HSENI survey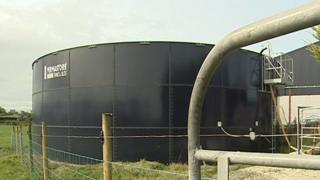 Fewer than one in five farmers who took part in a survey waited the recommended time before entering a building where slurry mixing had started.
The findings were revealed by the Health and Safety Executive Northern Ireland (HSENI) which interviewed 100 farmers.
The recommended time to wait is 30 minutes.
Of the farmers surveyed, 14% said they waited for only five minutes or less before re-entering.
The HSENI said the figures were all the more shocking, considering that all the farmers who participated in the survey confirmed that they were well aware of the risks from slurry gas during the mixing process.
Of those interviewed, 20% reported that either they or a family member had been affected one or more times by the most deadly gas produced by slurry - hydrogen sulphide.
The HSENI's chief executive, Keith Morrison, said: "It is demoralising that despite the high awareness of the dangers from slurry gas, many farmers are still willing to risk their lives when mixing slurry.
"Farmers should follow all of the recommended safety advice and, at the very least, they need to stay out of the mixing building for at least half an hour. Just one breath of slurry gas can cause serious injury or even death."
Ulster Farmers' Union president Ian Marshall said it was disheartening to hear that only a small percentage of farmers waited the recommended 30 minutes.
"I am very concerned that farmers are continuing to put their lives at risk by entering the mixing house despite the safety advice being given by HSENI," he said.
"The dangers of slurry gas are very well-known and it's hard to think of any excuse which would justify taking the risk.
The HSENI has produced a new slurry gas safety leaflet.