Milk companies enter merger talks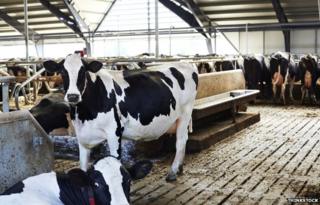 Ballyrashane Co-op, the County Londonderry based dairy, has confirmed it is in merger talks with the Town of Monaghan Co-op.
The two co-operatives said a merger would create a "powerful new force in the Ulster dairy sector".
Ballyrashane has an annual turnover of £80m and employs around 150 staff. It buys 100m litres of milk a year from around 100 local farmers.
Town of Monaghan has approximately 950 farmers supplying 460m litres annually.
It has a turnover of 250m euros.
Ballyrashane chief executive, Nigel Kemps said: "Both co-operatives have similar ethos values and culture.
"We have entered these discussions with the best interests of our suppliers and shareholders to the fore."
Ballyrashane, based in Coleraine, supplies milk to Spar and Vivo shops in Northern Ireland and is also a supplier to Marks & Spencer stores throughout Ireland.
Town of Monaghan owns a milk drying plant at Artigarvan, County Tyrone, which is one of the largest milk purchaser and processors in Northern Ireland.
The company produces a range of consumer products under the Champion brand.
Any merger will need to be approved by the shareholders of both co-ops.
It would create the second largest milk processor in Northern Ireland, behind Dale Farm.