Carrickfergus cannabis was 'so poor' that men grew drug, court told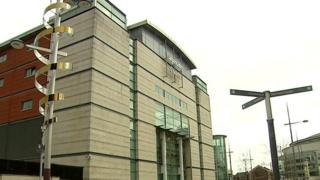 Two men were so disappointed with the quality of cannabis sold in Carrickfergus, County Antrim, that they decided to grow their own, a court has heard.
Marcin Jarzebiak, 31, and Bartosz Czeslaw Szadkowski 38, admitted a charge of growing cannabis.
Szadkowski also pleaded guilty to having the Class B drug.
The pair were both handed suspended sentences at Belfast Crown Court.
A Crown prosecutor told the court that police stopped a car driven by Szadkowski and with Jarzebiak on board on 22 October, 2013.
When they were speaking to the driver, police noticed a strong smell of cannabis.
A search of the car revealed a small bag of the drug.
The pair were taken to the police station and their home on Carrick's Albert Road was searched.
The prosecutor said that "as a result of this search, police discovered a cannabis growing operation comprising of 37 plants together with the associated paraphernalia."
During police interviews the men, both originally from Poland, admitted they were "long term regular users of cannabis".
'Seeds'
They also made the case that the quality of herbal cannabis sold in Carrickfergus was so poor that they decided to "embark on a home growing operation".
A lawyer representing Szadkowski, said his client had arrived in Northern Ireland via Holland and that he "believed quite wrongly that Northern Ireland was just as liberal" when it came to drugs.
Sentencing the pair, the judge said the cannabis found in their home was "not indicative of a commercial enterprise" but was for their personal use.
Szadkowski was handed a 12-month sentence which was suspended for two years, while Jarzebiak was given a nine-month sentence, which was also suspended for two years.