Brian Mongan jailed for sustained attack on his partner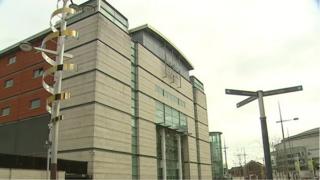 A Belfast man has been jailed for nine years for repeatedly hitting his partner with a broken bottle.
Brian Mongan, from St Agnes Place in the city, attacked Julie Nevin at her flat on the Antrim Road in north Belfast last March.
He pleaded guilty to wounding with intent to inflict grievous bodily harm and making a threat to kill her on the morning his trial was due to start.
The 41-year-old will serve three years on licence after his release from jail.
Belfast Crown Court was told Mongan has a substantial criminal record and at the time of the assault he was on bail for making a previous threat to kill Ms Nevin two months earlier.
'Terrified'
A prosecution lawyer said that on the night of the attack, the couple had been out drinking in bars in Belfast city centre, before returning to Ms Nevin's flat.
He said an argument developed between the pair and Mongan "lunged forward, grabbed Miss Nevin by the hair and dragged her down and started striking her about the face and head" with a beer bottle.
"From the injuries she sustained the bottle was broken but it was not broken when the assault started," the lawyer said.
"After the attack, he would not let her leave the flat or seek medical assistance. She was terrified of him but managed to make a break for freedom and got outside where she phoned the police.''
The court heard that in the early hours of the following morning, Ms Nevin received a text message from Mongan which stated: "Don't be calling the police now or me and the boys will wrap you up and put you in a hole".
'Blood-stained T-shirt'
The victim needed stitches for "deep laceration'' to her forehead and a cut lip.
The judge was told she had two black eyes, one of which was so swollen she could not open it.
Mongan denied the assault but the court heard that a "heavily blood-stained'' T-shirt was recovered from his home and a forensic analysis found the blood belonged to his partner.
A defence lawyer said his client had a history of alcohol abuse and the argument in the flat arose after Ms Nevin had accused him of cheating on her with other women.
He said Mongan was "deeply remorseful'' for the attack and had written his victim a letter from prison to express his remorse.
'Dangerous'
The judge told Mongan he posed a "significant risk to people in the domestic situation'' given this attack, his criminal record for previous assaults, including one for grievous bodily harm, and his repeated breaches of non-molestation orders.
"In all the circumstances, I do find that you are dangerous. I am satisfied that an extended period in custody is quite appropriate to protect the public.
"The main aggravating factor is that you carried out this sustained assault while you were on bail for making a threat to kill Ms Nevin" the judge added.