Belfast shooting, Oldpark Road: Man is critically ill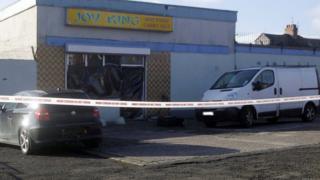 A man who was shot in the head in north Belfast remains in a critical condition in hospital.
It is understood police are investigating the possibility that dissident republicans were involved in the shooting.
The attack took place at a fast food outlet on the Oldpark Road at about 17:40 GMT on Friday.
The victim is believed to have been warned that his life was in danger last year.
"Certainly he was given by the police not so long ago a warning that dissidents were looking at him in terms of an attack so he was aware of that as well," Sinn Féin's Gerry Kelly said.
"The difficulty is that these micro-groups, these so-called dissidents, have been fighting amongst each other and it's got to the point where guns have been brought out."
Det Ch Insp Alan Dickson said: "We are currently treating this as attempted murder and are appealing for witnesses."
He said police believed one man was involved in the shooting.
The senior officer said the victim had driven to the fast food outlet and parked outside.
"He was shot once in the head whilst inside the premises," Det Ch Insp Dickson said.
"From the information we have established so far we understand that one man was involved.
"He made off in a blue coloured Vauxhall Astra estate car, vehicle registration number ANZ 5590, which was later found on fire in Torrens Gardens a few minutes later.
"At this stage of our investigation we do not believe this to be linked to the shooting incident in the New Lodge area which occurred just over two hours after this attack but we are appealing for information on both incidents."
Police said they wanted to hear from anyone who may have been in the Oldpark Road area around 17:35 GMT on Friday and who may have witnessed the shooting or any suspicious activity prior to it.
They also want to speak to anyone who may been in the area of Torrens Gardens when the car was set alight.
A witness told a BBC NI reporter at the scene on Friday that she heard the shot.
'Very frightening'
She said she saw the victim slumped in the takeaway restaurant and that he appeared to have a head wound.
SDLP North Belfast MLA Alban Maginness visited the scene shortly after the attack and described the shooting as a "very frightening" incident.
"It has shocked people in the neighbourhood. It's a quiet, residential neighbourhood and all of us had thought that this type of incident had been put to rest"
North Belfast MP Nigel Dodds described the attack as "deeply disturbing" for residents in the area.
"There is widespread shock at this shooting incident during which a man was shot in the head," he said.
"Murderous attacks such as this are the last thing we want to see happening on the streets of North Belfast."