John Haveron: Belfast man is jailed for indecent assaults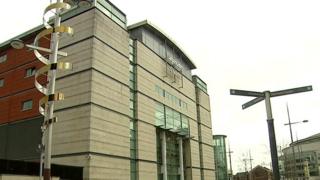 A Belfast man found guilty of indecently assaulting two young girls more than 30 years ago has been jailed for two years.
John Haveron, 65, from Enfield Street, was found guilty of four counts of indecent assault against two children.
The abuse occurred on dates spanning November 1975 to January 1982.
Belfast Crown Court court heard that both of the victims were under the age of seven.
When Haveron was interviewed about the incidents, he denied anything sexual had occurred.
However, he was sent to trial and was subsequently convicted on four charges.
A prosecutor said that both victims were young children at the time, while Haveron was aged between 26 and 33.
'Ransacked'
A defence barrister said that in the intervening time, there had been no further allegations made against his client.
He said the offences were "not at the high end of sexual assault".
The court was told that since the case against Haveron came to court, his home had been ransacked, the windows of the property had been smashed and he had been threatened.
The defence lawyer also said his client had been advised on social media that "people are waiting for him in prison".
The judge asked the prison staff in court to warn the relevant authorities of the threat.
He handed Haveron a four year sentence, half of which will be spent in custody, with the remaining two years spent on supervised licence upon his release.