Man charged with attacking nurse at Royal Victoria Hospital, Belfast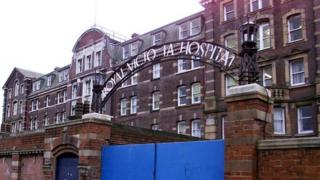 A west Belfast man has been remanded in custody charged over an alleged attack on a hospital nurse.
Stephen Francis Cornelius Brady, 33, was charged with three counts of assault over the incident at the Royal Victoria Hospital on Friday.
It is alleged Mr Brady, whose address was given as Divis Tower, assaulted a female nurse, a police constable and another man.
He was remanded back into custody to appear by video link on 5 February.
Belfast Magistrates Court was told that Mr Brady woke up in the hospital with no memory of how he got there and had asked nurses to bring him food from a fast food outlet but they refused.
Mr Brady's solicitor said that he tried to leave the hospital and pulled a drip out of his arm but staff stopped him from leaving and called security.
The solicitor added that his client's lack of memory was due to the strong medication he takes for a nervous condition in his arm.