Gerry Anderson portrait unveiled at Radio Foyle offices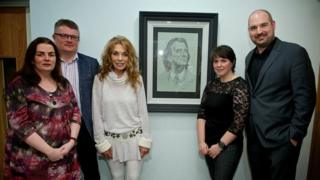 A portrait of late BBC presenter Gerry Anderson has been unveiled as BBC Radio Foyle opened its doors to its newly refurbished premises on Northland Road in Londonderry.
Anderson, one of Northern Ireland's best-known presenters, died last year aged 69 following a long illness.
In a career spanning 30 years, he hosted radio and TV programmes for BBC Northern Ireland, BBC Radio Ulster, BBC Radio Foyle and BBC Radio 4.
The portrait of him was donated by artist Marina Hamilton.
The artwork was unveiled by Gerry's wife Christine Anderson, who attended with members of her family, including daughter Kirsty.
Joel Simon, creative director of animation company Flickerpix Studios, also donated an animation model of Gerry Anderson to the station as a tribute to the presenter, who began his broadcasting on BBC Radio Foyle in 1985.
The model was used in the animation series On The Air, featuring audio from Gerry Anderson's radio programme which was recorded in BBC Radio Foyle.
Christine Anderson said: "I'm here for Gerry because I know he would have wanted me to be here. Coming here, where Kirsty spent so much of her childhood and seeing the portrait and looking at all the old photos around the building, has been lovely and surreal for both of us.
"He loved it at BBC Radio Foyle and I'm sure if he was here today he'd have some wise crack to make. But he would be so privileged to know he was being thought of in this way by his friends and colleagues."
BBC Radio Foyle began broadcasting in 1979 as an opt out service for BBC Radio Ulster. The station moved to its current location on the Northland Road 30 years ago in 1985.
It won radio station of the year at the 2014 Celtic Media Awards and Irish local station of the year at the 2013 PPI (Phonographic Performance Ireland) Radio Awards.
The building now boasts updated radio facilities and a new television studio.
Larry Deeney, Editor, BBC Radio Foyle, said: "This is a great time for the station.
"We are winning awards, we have record high listenership and the newly refurbished building just tops it all off. I'd like to thank the listeners without whom there would be no station and the staff here who are a privilege to work with."
Peter Johnston, director of BBC NI, added: "BBC Radio Foyle has been at the heart of such fantastic activity in the north west over the last few years and following on from that we've committed to further programming from here with Your Place And Mine and The Arts Show.
"To support this new programming we have also invested in some much-needed modernisation of our facilities for the community in the north west which the station serves and reflects so well."