Musgrave Park Hospital: Jim Wells apologises over cancelled operations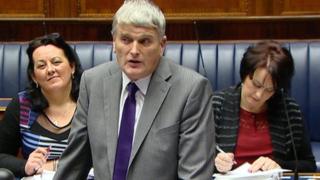 Health Minister Jim Wells has apologised to patients whose orthopaedic operations were cancelled at Musgrave Park Hospital in Belfast.
Last week, the BBC revealed that more than 100 scheduled procedures were cancelled.
This was because the hospital had to deal with the overflow of patients from the Royal Victoria Hospital.
Mr Wells was responding to an urgent oral question at the Assembly on the issue on Monday.
He said 179 patients had operations cancelled and strenuous efforts were being made to reschedule procedures, including sending some patients for private treatment.
Mr Wells said the figure represented 3-4% and that re-scheduling was "the best we can do for those people in very difficult circumstances".
He denied Musgrave Park Hospital was being used as "a holding bay" and said what staff had achieved was "remarkable" and that they should be congratulated.
Mr Wells said they had faced huge pressures, but managed to avoid the meltdown which many had predicted.