TV election debates: BBC defends omission of NI parties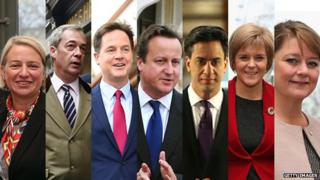 The BBC's chief political adviser has defended the decision not to include the DUP or Northern Ireland's other parties in UK-wide TV election debates.
Ric Bailey said impartiality was crucial and the BBC could not include "just one" party from Northern Ireland.
Seven parties have been invited to take part, including the Conservatives, Labour, Liberal Democrats, UKIP, Plaid Cymru, the SNP and the Greens.
The fourth largest Westminster party, the DUP, complained about its omission.
It wrote to UK broadcasters last week, pointing out that it had more MPs elected to the House of Commons than the either Scottish National Party (SNP), Plaid Cymru, UKIP or the Greens.
The Green Party has one MP, while the DUP has eight.
'Nonsense'
However, speaking to the BBC's Nolan Show on Monday, Mr Bailey said: "The debates which were proposed by the broadcasters a week or so ago, to include the seven parties, did not include the Northern Ireland parties because you couldn't include just one of them."
"If you're in Northern Ireland, the big choice you have in a general election and in other elections is between the big five parties in Northern Ireland.
"Now, that's not the same as the situation is in Scotland or Wales or in England, because there you've the SNP in Scotland who are competing in the main against the big parties of Labour and Conservative and Liberal Democrat.
"You have the same in Wales where Plaid Cymru are competing against Labour, Conservative and Liberal Democrats, that's not the situation in Northern Ireland, so you have to look at it in a different way."
Speaking on the same programme, DUP MP Nigel Dodds said Mr Bailey was defending a "nonsense of an idea" because people in England cannot vote for either the SNP or Plaid Cymru.
"What the BBC and ITV have come up with is this bizarre and irrational and illogical proposal which is 'we'll include all the national parties, then we'll start including Scotland and Wales regional parties, but we'll leave out Northern Ireland, and the reason we're not going to include Northern Ireland is because it's all very difficult, you'd have to include too many of them.
"So they invent a problem for themselves and then say the solution is too hard," Mr Dodds said.