National Crime Agency: MLAs vote to extend powers to Northern Ireland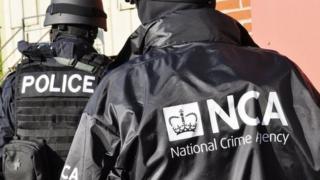 MLAs at Stormont have voted to extend the National Crime Agency's powers to Northern Ireland.
The vote was passed after the SDLP changed its position and supported it. Sinn Féin has criticised the move.
Both parties originally opposed the NCA's extension because of concerns over the agency's accountability.
However, the SDLP has now said that a series of new measures proposed by the UK government means they can back its full introduction in Northern Ireland.
Cross-community support
It is understood the NCA will be subject to the same Code of Ethics that applies to the Police Service of Northern Ireland (PSNI).
The police ombudsman will also have full power to investigate the body.
It is also believed the NCA's director general will be accountable to the Policing Board on matters relating to Northern Ireland.
The NCA began operating in the rest of the UK in 2013, but up until now its full powers have not been extended to Northern Ireland because of opposition from nationalist politicians.
Its acceptance required cross-community support at Stormont.
'At long last'
Speaking in the assembly, SDLP deputy leader Dolores Kelly said her party was voting in favour of the motion, following negotiations with the Department of Justice, the NCA and the PSNI on additional accountability procedures.
"We are pleased with the level of accountability that we have secured," she said, adding that her party had "shown leadership".
Mrs Kelly listed the accountability measures as a code of ethics, and a role for the police ombudsman and the human rights advisor of the Policing Board.
Ulster Unionist Danny Kennedy welcomed the "very clear and distinct support, some would say at long last, by the SDLP".
He said there was no doubt the NCA was needed, citing police claims that there were "at least 140 criminal gangs" operating in Northern Ireland.
'Jumped too early'
Trevor Lunn of Alliance said the need for the extension of NCA powers was "self-evident", while DUP MLA Jonathan Craig said "policing in Northern Ireland is under huge pressures".
However in a statement, Sinn Féin's Gerry Kelly said the SDLP has "jumped too early in a negotiation to create robust accountability mechanisms".
He accused the SDLP over undermining the Good Friday Agreement.
But Secretary of State Theresa Villiers said she was "delighted" that MLAs had voted to allow the NCA to operate in Northern Ireland.
"This excellent result has been achieved through many months of intensive work and negotiation led by the department of justice and with crucial engagement from the Home Office, NIO, NCA, PSNI and the NI parties," she said.
"This work has ensured that the NCA can offer vital protection to the people of Northern Ireland while ensuring that principles of local accountability are maintained."