HMRC officers uncover tobacco processing plant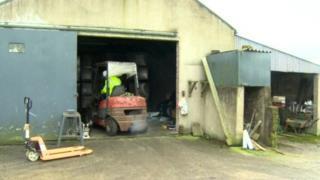 The first raw tobacco processing plant ever to be discovered in Northern Ireland has been raided by customs officers.
Five people, three of them foreign nationals, were arrested in counties Tyrone and Down.
Twelve tonnes of raw tobacco, two million cigarettes and £50,000 were also seized during the operation on Tuesday.
Police and customs officers searched nine addresses in Down, Tyrone and Armagh.
In the Republic of Ireland, simultaneous searches took place in Louth and Dublin by police and customs officers there.
The raids were part of a HM Revenues and Customs investigation into a suspected £110m tobacco fraud.
Mike Parkinson, assistant director of criminal investigation at HMRC, said: "The trade in illicit tobacco is unregulated and makes cheaper tobacco more readily available to the young and vulnerable.
"Tobacco fraud is a highly organised global crime which costs the £2bn a year in lost taxes.
"Co-operation with our partners across the UK, Ireland and overseas is essential if we are to tackle this problem effectively."
HMRC officers said up to a third of the UK market for hand-rolled tobacco is from illegal sources.
It is illegal to process raw tobacco and sell it without paying customs duty on it.
This has been a cross-border operation with several properties raided and more than 400,000 cigarettes seized in the Republic of Ireland.
The raw tobacco has clearly been imported from abroad and the operation to examine its source is continuing.