Belfast woman's mission to get Ireland eating insects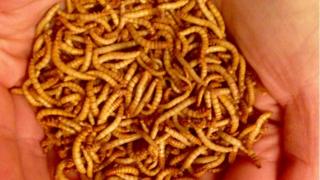 It's a bug's life for Tara Elliott - a French-trained chef with an eye for serving crickets, locusts and mealworms a la carte.
You could call her the Heston Blumenthal of the creepy crawly world.
For Ms Elliott, who was born in Belfast and brought up in Dublin, is on "a one woman mission to get Ireland eating insects".
She started off rearing 1,000 beetles in her hot press in County Wicklow.
"Well, it was the warmest place in the house," she said.
From there, she relocated to an outhouse and her stock has gone forth and multiplied, and multiplied, and multiplied.
Within six months, she estimates she could have an output of one tonne per week.
There is currently a healthy demand for live insects to feed birds and reptiles, but Ms Elliott has her sights set on providing "mini livestock" for the human market.
She studied science and business. She spent time working with Gordon Ramsay and at Heston Blumenthal's Fat Duck, having trained in the culinary arts in Paris.
Now, she is working towards a Masters degree in culinary innovation in Dublin and fell upon the idea of insects as an alternative healthy food source.
"The United Nation's Food and Agriculture Organisation has been encouraging people to consider insects as a nutritious and cheap food source, given that the global human population is expected to reach nine billion by 2050 with fears that food production will not match this demand," she said.
"Sixty percent of the population already consume insects. In some places in Africa they are a true delicacy and cost much more then beef at market," she said.
Ms Elliott is currently rearing 100kg of meal worms which are fed on organic apples, potatoes and water.
She also has crickets and has an eye on producing cricket flour which can be used in baking. The health arguments for eating insects are strong, she said.
"The protein in 100 grams of cricket equals the protein in 100 grams of chicken," she said.
"Beef might have double that protein, but it also has double the calories and four times the fat - and it is saturated fat. In cricket, you are getting good fats - Omega 3 and 6, and it is also high in calcium.
"It is never going to replace a big juicy steak, but it is a healthy option."
While in parts of Africa, Asia and Central America, a diet including insects is not unusual, in Europe it is still rare.
But there is already some demand for insect-based foods. Last year, a supermarket chain in the Netherlands launched a new range of products from edible insects.
In Ireland, Ms Elliott is hoping that the legislation will change soon to allow the sale of insects for human consumption. She is launching a website to get people's views on the issue.
Insects could also prove an important source of protein in famine situations, she said.
She is developing an edible bar that would contain insect protein, honey, nuts and seeds. She is also on a mission to change hearts and minds.
She wants to take a fly swat to the "yuck" factor that some people have about about eating insects and plans to do education courses in schools.
Once people taste a little nutty oven roasted cricket, they might just change their minds.