Northern Ireland Secretary Theresa Villiers on three-day US visit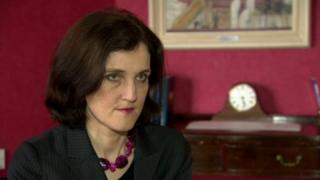 Northern Ireland Secretary Theresa Villiers is on a three-day visit to the US to brief the administration on the Stormont House Agreement.
She will also meet members of Congress and representatives of the Irish-American community.
Ms Villiers said it was important to meet those who had shown continued support for Northern Ireland parties.
"December's Stormont House Agreement marked a very important step forward," she said.
"I will be briefing them on the significant challenges that lie ahead in securing a more peaceful and stable Northern Ireland," she said.
"Northern Ireland politicians have demonstrated real leadership and determination in negotiating the agreement and this positive outlook continues as they work together to ensure the full and faithful implementation of the agreement."