Fiona McGeown death: Widower angry over suicidal wife's care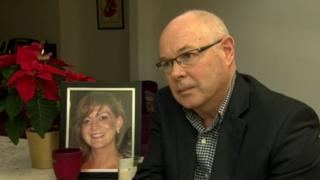 A man who lost his wife to suicide has criticised the health authorities for discharging her from hospital early, despite her begging to stay.
Fiona McGeown, who had been suffering from depression, took her life in 2013.
Her widower, Michael, said she was "devastated" when she was discharged from Holywell hospital in Antrim.
However, the Northern Trust said Mrs McGeown's "tragic death could not have been predicted at that time."
The trust offered its condolences to the family and said a review of Mrs McGeown's case had been undertaken.
"The panel concluded that Mrs McGeown received an overall good standard of care and a significant level of input from the service, and that her … tragic death could not have been predicted at that time," a spokesperson for the trust said.
Mr McGeown contacted the BBC after hearing that a national review of inpatient psychiatric care for adults across the UK is set to begin.
His said his wife of 23 years was once a "vibrant, outgoing person" who was always the "life and soul" of parties, but he described how she gradually became very withdrawn and socially isolated.
Mrs McGeown was diagnosed with depression at the age of 43, and was prescribed medication for her condition.
'Inconsolable'
However, at 45, she told her family she was suicidal and asked to be admitted to hospital for treatment. She was given a inpatient bed in a psychiatric ward at Holywell hospital.
"When she had been admitted to Holywell, they had said it would be a six to eight-week process, a programme of care, but after three weeks, Fiona got home leave for two days," Mr McGeown said.
He said that she took only one of the home leave days offered to her, because "she felt she couldn't handle the two days" away from the hospital.
"She was home on the Sunday and arrived back then on the Monday morning to the ward and was told she was being discharged."
He said his wife was "inconsolable" when she was told she had to leave hospital and begged doctors to continue her treatment.
However, he said the couple were told there were not enough beds available and that his wife would be offered a community care package.
"I couldn't believe it myself. I could see the progress that Fiona was making after she had been admitted to Holywell," the widower said.
'So angry'
"She started to come round a bit, she was having a bit of fun, smiling. She was responding very well to the programme of care provided. She was taking her medication on a regular basis - something that she wouldn't have done.
"She would have been prescribed anti-depressants for a number of years prior to her taking her own life, but when she was in the ward at Holywell she was responding very well and very happy to be there."
Mr McGeown said he was "so angry " that they were sending his wife home early and pleaded with medical staff, but added it was clear the decision had been made.
"On discharge, she seemed to lose all hope."
Mr McGeown added that life has been very difficult for both him and his son since his wife's death.
Full capacity
He said that care in the community services in Northern Ireland are not adequate for suicidal patients.
"Certainly my experience and Fiona's experience, when she was alive, was that the services weren't in the community. There wasn't enough support."
The availability and standard of psychiatric care in hospitals is to be reviewed across the UK by the Royal College of Psychiatrists.
In Northern Ireland, it has been established that psychiatric wards have been operating at full capacity for 17 years. It means that in a crisis, too often there are no available beds.
Mr McGeown plans to tell his late wife's story to the national review team.
He said the details, including why no-one was available to pick up a help-line telephone when she called, could help to improve services in the future.