Former soldier John Rankin on arms charges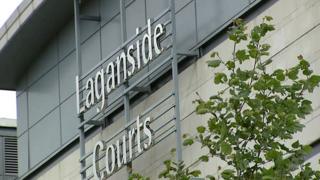 A former soldier who served in the Falklands War has appeared in court on guns and explosives charges.
John Rankin, 52, from Edward Road, Whitehead, County Antrim, faces five charges linked to a police search of his home on 23 January 2014.
He admitted one charge of having three blank firing automatic pistols without the Northern Ireland secretary's authority.
However, he denied four other charges against him.
These include possessing a nail bomb and six blast bomb-type devices, as well as the contents of fireworks.
He also denied making explosives, attempting to possess three blank firing pistols and having two semi-automatic pistols without a firearms certificate.
No details about the case against Mr Rankin emerged at Belfast Crown Court on Thursday. However a previous court hearing was told that police searched his home after a parcel containing three pistols was intercepted in England.
A trial date has been set for 18 March. Mr Rankin was released on continuing bail.