RCN: District nurses' morale at all-time low in Northern Ireland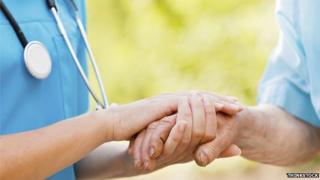 District nurses in Northern Ireland are under-staffed, under-resourced and often abused while treating patients in the community, according to a union.
The Royal College of Nursing (RCN) has described morale among district nurses as being at an all-time low.
Within the past three years, district nurses have reported a total of 129 incidents of assaults or abuse.
The Department of Health said assaults were unacceptable and acknowledged the pressure on all health care services.
RCN chair Fiona Devlin represents district nurses, who regularly travel to patients' homes to provide care and treatment.
"Right across Northern Ireland staffing levels aren't as they should be," she said.
"Vacant posts aren't being filled quickly and there is an inappropriate use of bank staff. District nurses say they are under immense pressure in the community, working extra hours which they aren't being paid for."
District nurses make up about 7% of the local nursing workforce.
Northern Ireland's current health policy - Transforming Your Care - recommends providing more care in the community rather than in hospital settings.
'Difficult'
However, according to the RCN, that policy is not being matched by additional district nursing posts.
"Morale is at an all-time low. The nurses feel they're not being supported," Ms Devlin said.
"They feel there is a lack of acknowledgement of just how difficult it is on the front line. We acknowledge the pressures our acute colleagues are facing, but we feel with the lack of investment in the community and especially with demand rising - it's not going to get any better."
She called for more investment in nursing.
"We need support and the right infrastructure in place. There also needs to be relevant discharge planning. Everything that Transforming Your Care said was to happen, has to happen, if community care is going to be realistic."
'Staff are afraid'
While a number of district nurses spoke to the BBC, none was prepared to be interviewed.
They said they were too frightened to speak out against the system and would be concerned about the reaction of management. Some said this was unfortunate as their suggestions would serve to help patients.
Ms Devlin spoke on their behalf.
"Nurses feel that while management acknowledge the pressures, they're still expected to get on with the job because at the end of the day patients need cared for in the community.
"Also, staff are afraid to admit they need to take leave due to stress. Some management have questioned their capability and said instead they are unable to manage or prioritise their caseloads."
'Traumatised'
Describing themselves as "lone workers", district nurses told the BBC they often feel isolated at work, especially those who are posted in rural areas.
Some said they had been verbally abused, others said they have been assaulted by patients or their families, especially where medication is involved.
"They do feel traumatised. Often they go out into their care and have been reduced to tears but know they have to dry their tears, pull themselves together and go unto the next call," Ms Devlin said.
The RCN supports Transforming Your Care. However, there is some concern about the pace of its implementation.
Remote areas
When asked about what evidence there was of Transforming Your Care in the community, Ms Devlin laughed.
"There is very little. We have increased case loads and the demand is higher. Patients say they want to be cared for at home and we support that. But to do that, we need to be supported and that means we need resources," she said.
The RCN had appealed to the Department of Health to address a range of outstanding issues, including providing mobile phones for nurses while at work, additional computers in offices and information technology that can be accessed in remote areas.
The BBC understands that the chief nursing officer has received copies of letters from nurses outlining their concerns.
In a statement, the Department of Health said the chief nursing officer and Health Minister Jim Wells both "acknowledge the health and social care system in Northern Ireland is under pressure in all parts of the service".
"The demand for the district nursing is increasing as there has been an increase in the complexity of patients being cared for in their own home; this has placed increasing pressure on the district nursing service to deliver," the statement said.
It added that over the past three years there were "30 extra district nurses" working in Northern Ireland's health service - an increase of 4%.