Alan Milne faces manslaughter and other charges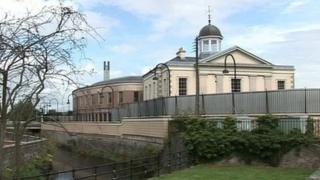 A Newry businessman is to stand trial for the unlawful killing of one of his employees at a caravan park almost three years ago.
Alan Milne, Armagh Road, appeared in court in a personal capacity and representing two companies.
He is accused of corporate manslaughter.
He is accused of killing Thomas Houston who was crushed when a static caravan fell on him at Silvercove Caravan Park near Kilkeel in February 2012.
His company DIECI Ltd, which supplies agricultural machinery, is accused of corporate manslaughter through a "gross breach" of its duty of care and a failure to carry out an appropriate risk assessment.
A second company, Nicole Enterprises Ltd, again with Alan Milne as its representative, is also accused of causing Mr Houston's death by a gross breach of its duty of care.
A district judge at Newry Magistrates' Court said he was satisfied there was enough evidence before the court to move the cases to the crown court.
Mr Milne will appear at Newry Crown Court next month.