PSNI chief reveals allegations against reinstated officers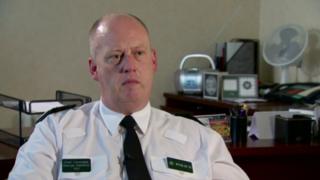 A number of PSNI officers are back at work despite facing allegations that include misconduct over a death in custody, drink driving and theft.
Last month, it emerged six suspended officers were reinstated before their cases had been dealt with. The PSNI said it was due to budget pressures.
The chief constable has now revealed details of allegations in eight cases.
George Hamilton was responding to a written question from a Policing Board member, Sinn Féin's Gerry Kelly.
The PSNI's new reinstatement policy was revealed on 13 January by the Ballymena Guardian newspaper, but the Belfast Telegraph has now reported more details of the cases under investigation.
Ahead of this week's Policing Board meeting, Mr Kelly asked the PSNI chief to provide more details of the "new approach to suspended officers".
The Sinn Féin MLA wanted to know the nature of the allegations against accused officers who have been sent back to work.
In a written answer, Mr Hamilton said the allegations against the eight reinstated officers include:
misconduct in public office
perverting the course of justice
driving with excess alcohol
death in custody
sale of counterfeit goods
theft
disorderly behaviour
tampering with a motor vehicle
Mr Hamilton added: "The officers involved had been advised that the decision to lift suspension does not in any way lessen the seriousness with which the service views the alleged behaviour, and will not impact on any final decision regarding misconduct action."
The chief constable said a proposal to reinstate suspended officers was taken in October last year, when it became clear that budget cuts would result in the loss of 320 PSNI staff by the end of 2014.
"In light of the extraordinary budget cuts and pressing staff losses, the decision was taken to review all suspensions with a view to return any of the suspended officers to duty in a restricted capacity," Mr Hamilton added.
He said two of the eight suspended officers have returned to a full range of duties.
Four of them have been repositioned and placed in security roles.
The final two reinstated officers have been given administrative roles while their cases are considered.
He said a further 18 PSNI officers remain suspended from all duties during the disciplinary process.