Father Damian McCaughan criticises alerts at Catholic churches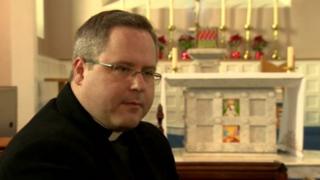 A priest has spoken out against those responsible for hoax bomb alerts at two Catholic churches on the outskirts of north Belfast.
Suspicious objects were found at St Mary, Star of the Sea, church in Whitehouse, and at St Mary's on the Hill, Glengormley, on Friday evening.
The Army carried out controlled explosions and said both were hoaxes.
Father Damian McCaughan, from St Mary's on the Hill, said the alert had caused "major concern and upset" in the area.
'Frustrating'
"About five o'clock the police let us know that there was a report of something being found somewhere in the church grounds," he said.
"Obviously at that point, the school had just finished, there were a lot of people coming home living in the street opposite and it was a very busy time on the road as well."
The road had to be closed and both he and his neighbours had to leave the area during the alert.
"It was a difficult situation for all of us," Fr McCaughan said.
It is not the first time St Mary's on the Hill church has been the target of a bomb alert.
"It was about two years ago, the last time that we had a situation like this," Fr McCaughan said.
"Very similar - something found and myself and the neighbours all having to move out. It's a frustrating thing."
'Intimidation'
Just hours before Friday's security operation, a man was convicted in Belfast Crown Court in connection with that hoax alert at the church in 2013. Police said they have no evidence that the incidents are connected.
The priest said he felt "disappointment" that attacks of this nature were continuing.
"In this day and age, there are still a few people who think that you can make a point in this way, that by intimidation and scaring people you can make a point.
"That's not the view of most people in any part of this community, we have great relationships here and its just a terrible shame that people try and upset that sort of thing.
"But of course, they won't succeed because they can't succeed. That sort of thing just doesn't work."
He added: "I think it's just a reminder to all of us that although we feel we've moved on from the past there are a few people in society, on both sides, who aren't ready to let go.
"And it just means there's a responsibility on the rest of us to show leadership in whatever way we can to show that we need to move on and we need to work together."