Kingsmills massacre: Police say attack on memorial is 'hate crime'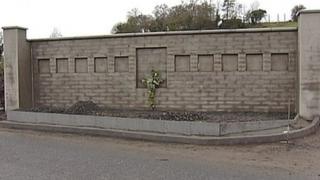 Police are treating an attack on a memorial at Bessbrook in County Armagh as a hate crime.
They said they had received a report at 16:15 GMT on Saturday that paint had been daubed on a memorial in the Kingsmill Road area.
The memorial commemorates the Kingsmills massacre of 1976, in which 10 Protestant workmen were shot dead by the IRA.
Ulster Unionist MLA Danny Kennedy said it was a "sickening attack".
"This will cause stress to relatives and it has to be condemned," he said.
"I think it is a hate crime, there is no place in a decent society for this memorial to be damaged or violated."
SDLP Newry and Armagh MLA Dominic Bradley said he was "disgusted" at the attack.
"To attack a memorial that is a source of comfort to the victims of this heinous crime is a truly callous and depraved act," he said.
Police said they were appealing for information.