Baftas 2015: NI team soaks up Bafta excitement ahead of ceremony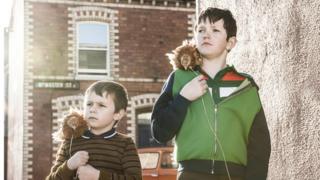 The Northern Ireland team behind a Bafta-nominated short film has said they are "soaking up" the atmosphere ahead of Sunday's awards ceremony.
Their film, Boogaloo and Graham, has been nominated for both a Bafta and an Oscar in the best short film category.
Set in Belfast, it tells the story of two boys who discover the facts of life with the help of pet chickens.
Its writer, Ronan Blaney, said the last two weeks leading up to the ceremony "have just been a whirlwind".
'Arrive in style'
"We're just trying to take in every minute of this and just enjoy it," he told BBC Radio Ulster.
"I've just been talking to Brian Faulkner and Michael Lennox - the producer and director - and Michael was saying; 'We'll have to get a limo for tonight, we'll have to arrive in style'.
"We're just going to soak it up and enjoy the thing, because the last week, the last two weeks, have just been a whirlwind."
Blaney described their jet-set lifestyle over the past few days, rubbing shoulders with the great and the good in Hollywood.
'Clint Eastwood'
"It's just been quite crazy, because we had to go to Los Angeles last weekend and then we had the Oscar lunch on Monday.
"I had my picture taken with Clint Eastwood and then, after that, it was a wrap party by a magazine in Los Angeles and after that, it was the Hollywood Reporter party."
He said the team flew to Washington for another engagement on Tuesday, and then the next day they travelled to London for a script reading and pre-Bafta events.
"It's been a totally overwhelming week, every day there's been something else - phone calls; five-star hotels; business class flights."
However, the party lifestyle has been taking its toll on some members of the team and the writer said he even found himself refusing a regal invitation.
"Kensington Palace last night - I just couldn't go. I was too tired, so I turned down Kensington Palace," he laughed.
'Unbelievable'
As for the main event on Sunday, Blaney says they still cannot believe their luck at being nominated for a Bafta.
"I don't know if anybody believes me or not by I'm just glad to be there. The nomination itself is a success, the film has done fantastically well.
"What it is that people get out of the film, we're not quiet sure, but the way it's taken off is unbelievable.
"Just a 15-minute short set in Belfast during the Troubles - and I think one of the reasons is that its a totally different take on the Troubles.
"It's a comedy, but it attempts to show that normal life does go on. Besides the madness that was going on in the streets, people were just trying to get on and lead normal lives.
"So it is about the crazy stuff that happens in families and people really respond to the humour in it."
He said the international impression of Belfast in the 1970s was burnt-out buildings and cars, but film festival audiences have been "laughing themselves sick" at the version of the city they have portrayed.
"It's a breath of fresh air and I think that's what people have responded to."
Best Picture
Another Northern Ireland native hoping for Bafta success is Shane Kelly, originally from Sixmilecross, County Tyrone.
He moved to Texas 14 years ago and for the past 12 years, he worked as director of photography on Boyhood, which has been nominated in the Best Picture category.
He told the Sunday News: "The amount of press and the amount of love it has received has really floored everybody."
Kelly said the international attention the film had received has made his family in Sixmilecross very proud of him.
"They've finally figured out what I do and figured out that what I have is a real job," he said.
The Bafta ceremony, hosted by Stephen Fry, is the biggest awards event in the British film calendar.