Belfast: Decision due on St Mary's and Stranmillis teachers' college cuts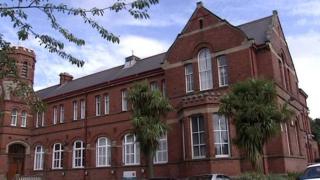 A final decision on plans to cut funding from two teacher training colleges in Belfast is to be made this week.
Learning Minister Stephen Farry wants to remove the small and specialist institution premium funding for both St Mary's and Stranmillis College.
They had been receiving the "premia" sum to compensate for their small scale and specialist status.
The Northern Ireland Executive is due to make the decision on Thursday.
There were protests at St Mary's College in west Belfast when Employment and Learning Minister Dr Stephen Farry announced his plan to cut the funding by £1.1m.
Politicians in west Belfast have expressed fears that it could lead to the closure of the college.
St Mary's principal Prof Peter Finn said the cut was "far too challenging".
He accused Dr Farry of a blatantly opportunistic decision to force the college to agree to his proposals for the future streamlining of teacher training in Northern Ireland.
None of Dr Farry's four options includes St Mary's keeping its current autonomy.
The college is determined to retain its character and Catholic ethos, however, Prof Finn said he was also keen for what he called "very deep sharing" between the various teacher training institutions.
That could involve students from each being taught in other university colleges from time to time.
Prof Finn strongly objected to the notion that the payment only existed in Northern Ireland and therefore should be removed.
Speaking on the BBC's Sunday Politics programme, Dr Farry said he was committed to reforming teacher training in Northern Ireland, but a final decision on the issue would be made by the executive on Thursday.
"We have to tackle divisions in our society. We will see where this goes. I'm not giving up on this particular issue, even if the executive votes against this," he said.
"It is so important that we have world class standards of teaching in Northern Ireland. People are confused. Why should our teachers be trained separately?"