Kingsmill memorial: Victim's brother angry over paint attack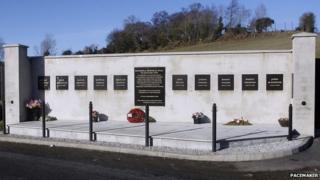 The brother of a man murdered in the Kingsmill massacre has said he is angry and disgusted that a memorial to the 10 victims has been attacked again.
Colin Worton's brother, Kenneth, was among those who died in the IRA gun attack in County Armagh in 1976.
The victims were all Protestant workmen who were returning home from work when their minibus was ambushed by gunmen.
Paint was thrown over their memorial on Kingsmill Road, Bessbrook, on Saturday. Police are treating it as a hate crime.
'Innocent men'
Kenneth Worton, who worked in a nearby textile factory, was 24 at the time of his death.
Speaking on BBC Radio Ulster's Sunday News programme, his brother said: "We're saddened and disgusted, and to be honest we're angry at how this memorial has been attacked yet again.
"This memorial goes down to 10 men coming home from a day's work. I could understand if they were coming home from planting a bomb or something," he said.
"But for them to come home from work, innocent men, and they were taken out and shot, just like dogs - it angers us that they can't even leave this memorial alone."
Sectarian motive
The textile factory workers were travelling in a minibus along the Whitecross to Bessbrook Road in rural south Armagh on 5 January 1976 when their vehicle was ambushed by up to a dozen gunmen.
The only Catholic in the minibus was ordered to leave the area while 11 of his Protestant work colleagues were systematically shot dead.
In 2011, an investigation by the Historical Enquiries Team concluded that the IRA was responsible for the atrocity and that the victims were targeted because of their religion.
Mr Worton told the Sunday News said that the workmen had "tried to shield the sole Catholic" from the gunmen, before they realised they were the target of the attack.
The attack has been widely condemned by unionist and nationalist politicians.
'Disgraceful'
William Irwin from the Democratic Unionist Party (DUP) said: "To attack the memorial is a gratuitously offensive action and an attempt to denigrate the memories of the men so cruelly gunned down.
"It is a display of intolerance and hatred motivated by religion."
Sinn Féin's Mickey Brady has described it as a criminal and disgraceful act.
"It doesn't serve any purpose or cause, it doesn't do anything only hurt those whose loved ones this monument represents," he said.
A previous attack took place in December 2012, as the memorial was still under construction. IRA graffiti was scratched into the plaster.