East Belfast alert caused 'mayhem' for residents says councillor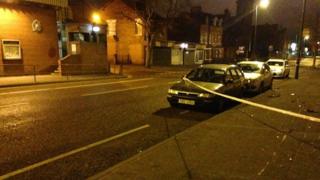 A DUP councillor has said a security alert near a police station in east Belfast caused "mayhem" for residents who had to leave their homes.
Gavin Robinson said "scores" of people were affected by the alert which began on Sunday evening.
Police received a call to say a device had been left in a car close to Willowfield police station.
Army bomb officers were called to examine a suspicious object - it was later declared an elaborate hoax.
Mr Robinson said the alert had caused a "deep sense of frustration and annoyance" for residents.
"We had scores of people who needed to be evacuated from their homes for safety, many elderly individuals, some I know with visual impairments, some I know with dementia and so on," he said.
"There's a home just one street behind the police station. Happily it didn't need to be evacuated but this caused an awful lot of heartache and mayhem.
"Last night there was an emergency rest centre, as it's known, set up initially but that then had to be moved a second time because the premises that was in fell within the cordon so indeed there was more disruption.
"This is the second time that this has happened for residents on the Woodstock Road in the last four months.
"Last night when it started at nine, people were getting ready to go to bed, they had children in bed or they were in bed themselves and this alert didn't end until after one in the morning."
The Woodstock Road has re-opened.