Jim Allister proposes cutting £500,000 from Equality Commission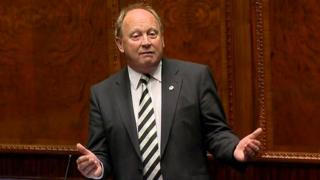 Nationalist parties have brought a petition of concern against an attempt by Jim Allister to remove £500,000 of funding from the Equality Commission.
The TUV leader has proposed an amendment to an Northern Ireland Assembly motion to approve funding to various departments and public bodies.
Mr Allister claimed the assembly Speaker's name had been on the petition but had then been blanked out.
He said it appeared the document "came out of the bottom of the drawer".
As Speaker, Mr McLaughlin's name could not be used on a petition of concern. Mr Allister suggested this showed the document had been drawn up before Mr McLaughlin had become Speaker in January.
He questioned whether the petition could be valid if the signatories did not know what it was about when they signed the petition.
The Speaker, Mitchel McLaughlin, replied that he had to judge whether a petition was valid and he was satisfied that it was and the petition had been submitted in the appropriate fashion.
If a petition of concern is presented to the assembly speaker, a motion then needs cross-community support.
In such cases, a vote on proposed legislation will only pass if supported by a weighted majority (60%) of members voting, including at least 40% of each of the nationalist and unionist designations present and voting.
Last year, the Equality Commission said it was bringing a civil case against Ashers Baking Company after it refused to bake a cake with a pro-gay marriage slogan.
On Friday, Mr Allister said: "Clearly the commission has too much money if it has money to squander on persecuting a Christian bakery.
"So, I am giving MLAs the opportunity to express their disapproval of the conduct of the commission by cutting their budget. Such is a traditional parliamentary tactic available to backbenchers to focus attention on a matter of public concern."
DUP assembly member Sammy Wilson criticised Mr Allister's amendment.
The former finance minister said Mr Allister had voted against the recent budget for the next financial year which featured a £430 000 cut to the Equality Commission budget.
"I think that's the way of giving tangible effect to the anger of the public out there," he said.
Mr Wilson also said that the amendment could not take effect in law, as only the finance minister had the legal ability to do what Mr Allister had called for.