Continuing pressure on Belfast A&E units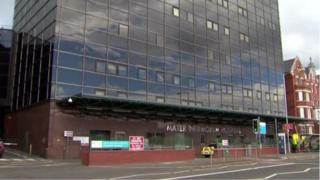 Pressure on Belfast hospitals has led to some elderly patients being diverted from Belfast City Hospital to the Mater Hospital's A&E unit on Monday night.
The Belfast Trust said the diversions involved frail, elderly patients who had been referred to hospital by GPs.
Under a recently introduced system, GPs can refer elderly patients directly to the City Hospital for tests, to avoid long waits in emergency departments.
But pressure on this system on Monday meant they were sent to the Mater A&E.
'Very busy'
A spokeswoman for the Belfast Health Trust said the number of patient diversions to the Mater has not been released.
She added that the trust's emergency departments were "very busy" over the weekend.
The GP referral system to Belfast City Hospital is known as BCH Direct.
In a document on its website, published in December 2014, Belfast Health Trust said: "BCH Direct is designed to enable frail elderly patients to directly access services in Belfast City Hospital, reducing pressure on the emergency department and Acute Medical Unit at the Royal Victoria Hospital."