Carál Ní Chuilín: Irish language bill set for 12-week consultation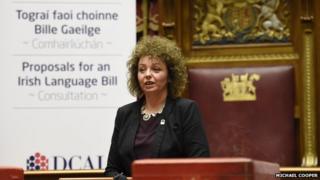 The culture minister has published draft proposals for an Irish language bill in the Northern Ireland Assembly.
Last month, Carál Ní Chuilín said she would bring forward a 12-week public consultation on the proposed legislation.
It includes a requirement for Stormont business to be translated and courts to be heard in Irish.
Other plans include defined Gaeltacht areas and the provision of place names in Irish.
It would also see the appointment of an Irish language commissioner and the use of Irish by public bodies. The consultation closes on 5 May.
'Vibrant language'
Launching the consultation, the minister said the language belonged to everyone, but unionists have already said the plan is doomed to failure as they intend to block it.
Last November East Londonderry MLA Gregory Campbell said his party would never agree to it.
The Traditional Unionist Voice (TUV) leader Jim Allister said the bill had to be "steadfastly resisted" by all unionists.
Ms Ní Chuilín said no-one had anything to fear from enhancing and protecting Irish in a way that would enable it to make a "lasting and meaningful contribution towards bringing a strong and united community".
She added it would not threaten or displace the English language but sit alongside it "as a living and vibrant language".
'Greatly encouraged'
Sinn Féin has been campaigning for legislation to protect and promote the Irish language for a number of years.
Under the terms of the St Andrew's Agreement in 2006, the government pledged to introduce an Irish language bill, but no legislation has ever been passed.
Ciarán Mac Giolla Bhéin from Conradh na Gaeilge (The Gaelic League), a group that promotes the Irish language, told BBC Radio Ulster's Good Morning Ulster programme he "strongly agreed" with the minister's proposed measures.
In Northern Ireland, less than 4% of the population is fluent, although over 10% say they have some ability in Irish.
Conradh na Gaeilge has just published an all-Ireland survey exploring support for the language.
'Taking back'
According to the report, 54% of people surveyed in Northern Ireland said they believed "services provided by the state should be made available through Irish for those who wish to use them".
Only 8% of people who were asked if they were "confident in their ability to understand Irish" said they agreed, and 55% of people disagreed when they were asked if they would like to "have the opportunity to learn Irish or more Irish".
But Mr Mac Giolla Bhéin said the survey was a reflection of personal choice, and "showed strong support for services to be made available to those wish to avail of them".
He also said more "work on the ground" needed to be done to show how perceptions towards the language are changing.
He said: "Surveys like the one we've just conducted, reflect growing trends in non-traditional communities.
"More and more Protestants and unionists are interested in Irish, are learning the language and are taking back the language."