HIA inquiry: PPS found no case against nun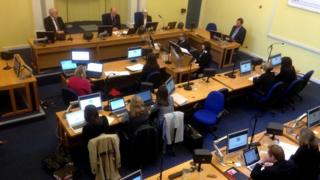 The Historical Institutional Abuse (HIA) inquiry has heard the Public Prosecution Service decided there was no case against a nun accused of physical abuse at a Belfast care home.
The nun cared for more than 100 children at Nazareth Lodge. Five made complaints.
One complainant described her as elderly and using a walking stick at the time.
The inquiry heard she was in her 30s and never used a stick.
The nun was giving evidence at the inquiry in Banbridge, County Down.
She also said she was told about a single incident linked to paedophile priest, Fr Brendan Smyth, at the home.
She said one girl told her that Smyth had brushed against her.
The inquiry is examining abuse claims at Nazareth House and Nazareth Lodge.
The homes were run by the Sisters of Nazareth, who have made an apology to all in their care.
The HIA inquiry was set up in 2013 to investigate child abuse in residential institutions in Northern Ireland over a 73-year period, up to 1995.
The court was told that the nun had been interviewed by police several times since 1995, but the Public Prosecutions Service (PPS) has never pursued a prosecution against her.
'So naive'
The Sister of Nazareth denied beating children, but did admit that she was "maybe too strict at times".
The hearing was told that the nun expressed regret about not reporting Smyth.
Smyth, who was at the centre of one of the first clerical child sex abuse scandals to rock the Catholic Church in Ireland, was eventually convicted of more than 100 child abuse charges on both sides of the Irish border.
He died in prison in 1997, following a heart attack.
She said she later told police: "I did not report this to anyone, and in hindsight that was a mistake on my part.
"We were so naive in those days."
She also said Smyth's presence at the home gave her "the creeps".
Campaigner's accusations
A second elderly nun, who has cared for hundreds of children during her career, also gave evidence to the inquiry on Tuesday.
A prominent victims campaigner is the only person accusing her of physical abuse.
During her evidence, the nun said that after many years, the man made contact with her in 2009.
However, she said, he then broke off contact after she declined his suggestion that she should become a born-again Christian.
The man sat at the back of the inquiry room as the nun highlighted what she said were inconsistencies in his allegations, in terms of time and details.