Ulster Bank chief 'skimmed through Taggart documents'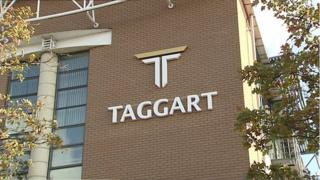 A former Ulster Bank chief allegedly "skimmed" through documents about major property developer clients without fully understanding them, the High Court in Belfast has been told.
Henry Elvin's self-portrayal as being a careful man was at odds with an apparently "misleading" affidavit on when Taggart Group cheques were bounced, it was claimed.
Mr Elvin said that one inconsequential error in a 21-year career did not define him as careless.
He was giving evidence as part of the Ulster Bank's multi-million pound legal battle with Michael and John Taggart.
The brothers from County Londonderry are suing the bank claiming its alleged negligence contributed to their firm's collapse.
In a counterclaim, the bank is seeking £5m and 4.3m euros (£3.2m) it says the Taggarts owe.
Mr Elvin, who went on to become Ulster Bank's head of business banking in Northern Ireland, was a top official during the period under scrutiny.
'Bank man'
Earlier in the case, it was claimed that the Taggarts received no warning before two cheques for more than £300,000 were bounced.
During cross-examination, Mr Elvin said the decision to stop the payments was made early in June 2007.
He accepted that a document stating the decision was taken a week before that had been mistaken.
Asked if reports at that time came to him, he said he was known as "the bank man" who was in the office from 7am to 7pm.
"I was in early and I was in late - that's when I would have read a lot of credit reports," he said.
A barrister for the Taggarts put it to him that the decision to stop the cheques was actually taken on 29 May.
However, Mr Elvin said the ledgers clearly showed that it happened a week later.
The barrister asked him: "Why did you, a senior official at the bank in a court case, allow an affidavit to be signed by you which was, on the face of it, misleading?"
Mr Elvin said he had been "open and honest" about not going to check the ledger on that one point.
The barrister put it to him: "This picture you're trying to paint as a careful man who knew all about the Taggart case is very far from the truth.
"You skimmed through the matters and didn't fully understand the situation."
However, Mr Elvin said that assessment was "furthest from the truth".
"The actions of the Taggart Group defined what I understood about the Taggart Group in terms of managing the risk," he said.
"I raised concerns with them and they proceeded to go elsewhere and do other banking deals.
"It wasn't a negative on the Taggarts, it was simply a risk profile, (and) we decided to go our separate ways."
The case continues.