Postman Ciaran O'Neill jailed for stealing concert tickets and cheques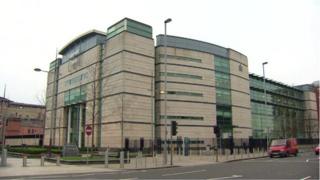 A postman has been jailed for four months for stealing concert tickets and cheques.
Ciaran O'Neill, 26, from St Matthews Court, east Belfast, was caught in a covert sting operation by Royal Mail.
It began after members of the public contacted Royal Mail to raise concerns because their concert tickets had not arrived.
The judge said postmen who stole mail "have to expect go to prison'' for their crimes.
Belfast Recorder Judge David McFarland sounded the warning after he jailed post man Ciaran O'Neill for four months after he was caught in a covert sting operation by Royal Mail following suspicions he was stealing items sent through the post.
O'Neill (26), of St Matthews Court in east Belfast pleaded guilty at Belfast Crown Court to four counts of theft and one of fraud.
A prosecuting lawyer told the court that O'Neill was employed as part time worker at the Royal Mail sorting office in Tomb Street between April 2012 and July 2012 and part of his duties was to deliver mail to areas of north Belfast.
The court heard suspicions were aroused when two people who lived near each other on his delivery route complained to Royal Mail that they did not receive concert tickets they had been expecting through the post.
The thefts involved two tickets for a Leonard Cohen concert and two tickets for a performance by DJ James Blake.
The court heard that Royal Mail conducted a search of its returned mail room at Tomb Street to see if the letters had come back undelivered but they had not.
Royal Mail set up a sting operation when the lost items could not be found.
The prosecution lawyer said that three envelopes were prepared by staff which "looked like birthday cards''.
One contained £25 in cash and the others held crossed or payable postal orders.
"They inserted these items into a mail tray in the returned mail room where the accused was working and he was observed taking the £25 out of the envelope," the lawyer said.
When confronted by Royal Mail investigators, the court heard O'Neill claimed he saw the envelope was open, put the money in his pocket and said he planned to give the cash to his supervisor.
When police later searched his home they found two sets of concert tickets.
They also found Ulster Bank cheque books in the name of a company.
The court heart that one of the cheques had been removed and £2,900 was taken from the business's account and put into O'Neill's own account.
During police interviews, O'Neill denied taking the concerts tickets from the mail saying he had got them from a "third party'' but wouldn't say who it was.
In respect to the £2,900 cheque, the 26-year-old said he had gambling debts and was under duress to pay back £2,900 he owed.
The court heard that O'Neill had only taken £250 out of the £2,900 cheque he cashed.
The company had not lost out as the Ulster Bank had honoured the cheque.
The judge was told that O'Neill had 26 convictions for theft offences, all of which had been committed after the Royal Mail offences were committed.
A probation report stated that O'Neill had a "high likelihood of reoffending'' in the future.
A defence lawyer urged the court not to impose an immediate custodial sentence, saying O'Neill's partner was expecting their first child in the summer and he had not been in trouble with the police since December 2014.
But the judge said the custody threshold had been met as it was a "serious breach of trust'' by O'Neill.
"There is an expectation on behalf of the public that their mail will not be interfered with by postmen,'' the judge told the court.
"There is also substantial duty on Royal Mail and its staff that postal items are properly delivered.
"When that trust is lost, members of Royal Mail have to expect to receive custodial sentences.''