Praxis charity told to hand over coffee shop land to government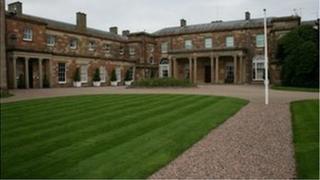 A High Court judge has ordered a charity to hand over the coffee shop it runs in the grounds of Hillsborough Castle to the government.
Mental health charity Praxis launched a campaign to be allowed to stay after it was told it had to vacate the premises.
Mr Justice Deeny ruled that the charity did not have a "certain interest" in the land.
It must hand over possession to the secretary of state for communities and local government.
The charity had been given the use of a corner of the estate in 2001, with a nominal fee of £1 per year.
It provided employment for people with learning difficulties in its market garden and coffee shop
In his ruling, the judge said that while Praxis was clearly seeking a 25-year lease with a nominal rent, there was no indication that anyone had given them reason to expect this.
The judge added that he had identified no "unconscionable behaviour" on the part of the secretary of state or their officials.
"It seems to me that they were, as instructed by their superiors, co-operative with Praxis but it was clearly the decision of Praxis to go ahead and build here without ensuring that it was legally wise to do so," he said.
"They did not even consult a solicitor before commencing their works. They were relying on a successful conclusion of these negotiations."
Mr Justice Deeny said his ruling did not affect a separate claim by Praxis for compensation, but warned that they may wish to reflect carefully on whether it was worth pursuing.
The site in total is around five acres. The chief executive of Praxis Nevin Ringland said they were already looking at securing another site.
"We have another site and we're just developing facilities on that site, but we're never going to be able to replicate the unique setting that we had in the secret garden at Hillsborough Castle," he said.
"The service users knew that it was a unique site and they derived and developed a lot of their self-worth and self esteem from working in that very unique site."
He told BBC Radio Ulster's Evening Extra programme that he accepted the ruling, but was "very disappointed" by it.
"We were told in writing that we could have a long lease and we, in hindsight, think to ourselves that maybe we were a little bit naive," he said.
Mr Ringland confirmed that seven staff and service users will be redeployed to other Praxis sites.
Praxis is not pursuing its separate claim for compensation after listening to the judge's advice.