Northern Ireland health trusts write to cancer patients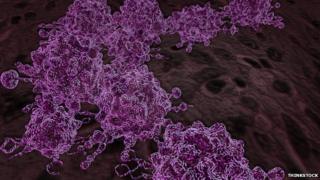 Health and Social Care Trusts have begun posting out Northern Ireland's first cancer patient experience survey.
About 5,500 adults diagnosed with cancer and discharged from hospital between December 2013 and May 2014 will be asked to describe their experiences.
Macmillan Cancer Support has produced the questionnaire in conjunction with the Public Health Agency (PHA).
The results are to be published this summer.
The responses will show if cancer care standards are being maintained, and where improvements can be made.
'Quality of care'
"The best people to ask how well cancer services are being delivered are the patients themselves," Dr Miriam McCarthy, consultant in public health medicine with the PHA, said.
"When a patient is told they have cancer, their whole world may change. Patient experience isn't just about clinical care.
"This survey asks patients about the way they were told they had cancer and whether they felt involved in decision-making. It covers each stage, from diagnosis and hospital treatment through to home support."
Heather Monteverde, general manager for Macmillan Cancer Support in Northern Ireland, added: "Macmillan is delighted to be involved with the PHA in conducting the first ever Northern Ireland cancer patient experience survey.
"It's vitally important to measure survival rates and waiting time targets, but it's equally important to find out what patients really think about the quality of care they receive in and out of hospital."
Last month it emerged that a record number of people living in Northern Ireland have been diagnosed with cancer, according to figures released by Macmillan.
An estimated 63,000 people in NI now live with the disease.