St Mary's and Stranmillis colleges: Executive rules no cuts to budget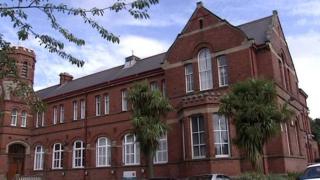 The Minister for Employment and Learning Stephen Farry has been overruled by the executive over plans to remove £2m from the budgets of St Mary's and Stranmillis training colleges.
At a meeting, the executive agreed the funds should be retained.
Politicians and students said the money paid was to compensate for their small size and specialist nature.
Mr Farry said it was "very disappointing and regrettable".
He described the action of the executive as an "intrusion into the workings of his department".
"Today's executive decision further reinforces the reality that Northern Ireland continues to operate a system of teacher training that is not fit for purpose," the minister said.
'Alternative options'
"It remains financially unviable, it is not keeping pace with world-class standards, and it is not in keeping with the creation of a shared and inclusive future."
Mr Farry said there were "clear alternative options" that addressed all the "shortcomings".
However, the SDLP's Alex Attwood welcomed the decision.
"For west Belfast it means a major employer, a flagship institution and an economic driver in an area of great need. The college can now continue to teach, serve and employ," he said.
"The leadership of the staff and students in the colleges has been powerful and purposeful."
Ulster Unionist Robin Swann also welcomed it.
"This will now allow the minister to take forward a full and open review of teacher training provision in Northern Ireland," he said.
"Such a review would have been impossible had the minister's self-imposed financial threat remained in place."
Jonathan Bell, DUP, said the executive had provided the space for a proper consultation to take place on the way forward for teacher training in Northern Ireland.
"It is inconceivable to imagine teacher training provision in Northern Ireland that does not include Stranmillis. Today's decision ensures that Stranmillis College is allowed to continue build on their foundation of providing excellence in teacher training for years to come," he said.
'Strongly encouraged'
Bishop Noel Treanor, chairman of the board of governors of St Mary's University College, said he was "strongly encouraged" by the executive's decision.
"This decision recognises the distinctive and high-quality contribution of service and excellence made by this autonomous Catholic institution to higher education in Northern Ireland" he said.
"The college's model of faith-based teacher education, in the Catholic tradition, is consistent with the principle of choice which is the hallmark of our school system."
The move to remove £1m from each institution was part of a plan to make teacher training more cost effective.
It had led to claims that the colleges may be forced to close and sparked protests in west Belfast.
It was part of a wider plan is to end the fragmentation and duplication of the teacher training system in Northern Ireland.
Mr Farry had previously warned that if he could not remove the £2m a year from the colleges, he would have to make further cutbacks in his department.