Peter Robinson wants better co-operation with UK government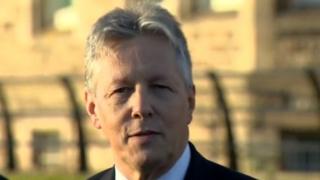 First Minster Peter Robinson has said more needs to be done to improve relations between the executive and the coalition government in London.
He was speaking to a House of Lords committee on Wednesday.
He said policy decisions impacting Northern Ireland were often taken in London but the first he heard about it was "on the news".
Peter Robinson also said government ministers could do more to inform members of the executive of decisions.
He said the very least London-based ministers could do was "pick up the phone and speak "to their counterparts in the devolved institutions.
"I could give you examples when major policies were decided by UK departments which had a direct impact on what we were doing in Northern Ireland and we heard about it on the news and that is not good," the first minister said.
Mr Robinson cited the example of a decision taken by the then education secretary Michael Gove in relation to GCSEs that the first minister said impacted on people on Northern Ireland.
The first minister was giving evidence to a House of Lords constitution committee examining the relationship between the devolved institutions in Belfast, Edinburgh and Cardiff.
The DUP leader suggested that a formal structure should be put in place so that meetings between executive ministers and government ministers should take place within a "given period of time".
The committee asked Mr Robinson on the Northern Ireland Executive's experience of dealing with Whitehall and whether any changes are needed to the role of the secretary of state for Northern Ireland.
'Argue our case'
The first minister suggested that the position of Northern Ireland secretary should be retained and rejected any suggestion that it should be abolished.
In the past it has been suggested that the separate positions of Scotland, Wales and Northern Ireland secretaries should be replaced by a single cabinet post.
Peter Robinson said he was against any change and he told the committee "we certainly look at the secretary of state as someone who will argue our case".
He added that it was important Northern Ireland had "a voice in cabinet on key issues".
Speaking to peers he praised current Secretary of State Theresa Villiers and said she had "played an important role in the talks".
Earlier, the committee heard evidence from Alistair Carmichael, the secretary of state for Scotland. Peers also heard from Lord Wallace of Tankerness who is currently the advocate general for Scotland.
The committee quizzed both men on the new Scotland Bill which was published by the coalition government in response to the recommendations of the Smith Commission.