Welfare reform: Bill passes consideration stage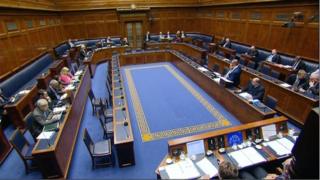 MLAs at Stormont have voted the Welfare Reform Bill through its consideration stage to the next part of the law-making process.
Politicians debated the piece of legislation in the Northern Ireland Assembly for two days.
Amendments tabled by the Ulster Unionist Party (UUP), SDLP and the Green Party were defeated.
The bill is due to be discussed again in the assembly in two weeks' time.
It is thought that then, the legislation will be amended to give the Department of Social Development (DSD) the authority to set up schemes to protect people who would lose money because of changes to benefits.
More than £0.5bn is expected to go towards five schemes to help with these changes.