Newtownbutler wedding: Police 'know' who carried out shooting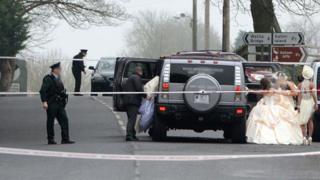 Police have said they believe they know who carried out a shooting of a man outside a wedding in County Fermanagh.
Barney McGinley, 63, who was a member of the traveller community, was shot in front of his wife and grandchildren as the bride entered a Catholic church in Newtownbutler on Wednesday.
Det Ch Insp Una Jennings said the victim was originally from Longford.
She said he was a "well-known" and "well-regarded" member of the local traveller community.
Speaking at a police news conference, Det Ch Insp Jennings said Mr McGinley sustained a gunshot wound to his chest in the shooting.
"What should have been a day of joy and celebration has been turned into one of heartbreak and tragedy. I want to offer my sympathies to all those affected by these tragic events," she said.
"The key to the investigation, in particular, lies within the travelling community especially those who were at the wedding."
The officer said she appreciated how difficult it might be for people to come forward to the police, but she said police were ready to listen.
"I would say we collectively have a moral and legal obligation to Barney's wife Brigid, to try to give her some sense of justice and peace in the midst of a very personal tragedy," Det Ch Insp Jennings said.
"Those responsible are still at large, we believe we know who they are and as I have already alluded to, are following a very specific line of inquiry with the assistance of our colleagues in An Garda Síochána.
"I would say to those involved, you are postponing the inevitable, come forward and present yourselves to the police service either north or south of the border."
Mr McGinley was flown to hospital in a police helicopter but died from his injuries.
Another man, who is in his 30s, was also shot. His injuries are not thought to be life-threatening.